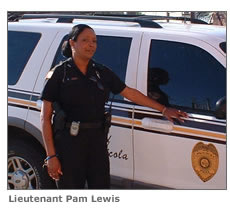 Our School Resource Officer (SRO), Lieutenant Pam Lewis, heads our SRO program. The SRO program is an asset used by the community and the school in an attempt to address situations in the lives of student in a forum other than the judicial system.
The purpose of the SRO Program is to provide support for the students, teachers and staff in any areas that relate to law enforcement, by a visible, active police presence on campus.
The School Resource Officer will serve as liaison, between the Police Department, the Board of Education and the Schools providing an information link regarding problems, possible solutions and/or ways to work more effectively together.
In addition, Lieutenant Lewis is also designated as our departments Training Coordinator. Lieutenant Lewis is responsible for the implementation of all training throughout the Department. She is responsible for maintaining adherence to guidelines and statutes that must be met by all Officers at the local and State levels.